Brioche French Toast with Brown Sugar-Cranberry Sauce Recipe
See this & more on Scoop it or click on photo.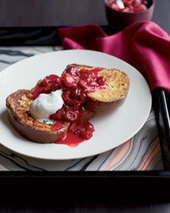 Zoe Nathan likes using brioche to give this French toast a lovely, custard-like texture. The tart, creamy cranberry sauce, made with fresh or frozen cranberries, is a great alternative to maple syrup.
Latest posts by SD411 Staff (see all)